Discover more from Hopium Chronicles By Simon Rosenberg
Expert commentary from a 30-year veteran of US politics. Together we work on strategies to defeat MAGA, tell our story more effectively, and ensure freedom and democracy prevail. Expect sharp analysis, live events, and all sorts of Hopium!
Over 26,000 subscribers
Democrats Are Having A Good Summer. Republicans Are Teetering On A Political Abyss
The GOP's awful summer is about to get a whole lot worse
Democrats are having a good summer. Inflation is down, growth is strong. Our recovery here is the best in the G7, inflation is much lower than Europe. Putin continues to struggle in Ukraine, the Western alliance has been revitalized and is expanding. The President's big climate agenda has made America once a world leader in the existential fight to ensure the planet doesn't warm, and his broader investment agenda is already bringing growth, investment and jobs across the US. The flow to the border has plummeted, murder rates are way down, the deficit is a fraction of what it was under Trump, and this year America will produce more oil than any year in history. We won critical elections in CO, FL, PA, WI, our candidates and committees are raising lots of money, and the early vote in Ohio is promising. We are having a good, productive, can do kind of summer, and yes Joe Biden is a good President and the country is better off.
The Republicans, on the other hand, are having a really bad summer. All their attacks on Biden as President - inflation, recession, border, crime, war on energy, weak leader abroad - are evaporating. Their ridiculous debt ceiling gambit reminded us how reckless and extreme they've become. Their climate denialism is wilting due to soaring temperatures across the world. They keep losing elections they hoped to win. Their "investigations" are more Marx Brothers than Eliot Ness. Their #2 has turned out to be an ugly extremist and really, really not ready for prime time. Their "Manchurian Kennedy" is too crazy even for MAGA. And then there's Trump.
Trump was found guilty of sexually assaulting E. Jean Carroll. His family has taken billions from the Saudis and who knows how much from other illicit sources. He was indicted for stealing top secret documents and lying about it to the FBI. He's promised a dictatorship if re-elected. His own daughter has refused to endorse his re-election. Leaders of his "Proud Boys" were convicted for seditious conspiracy. The list of horribles goes on and on, and of course, all of this has sent his poll numbers with Republican primary voters soaring.
This week though, remarkably, things are getting even worse for Donald Trump and the Republicans. His indictment for leading a vast conspiracy involving hundreds of Republican leaders and activists to install himself as President, which included an armed attack on Congress, appears imminent. The thing that should be most alarming for the Rs, however, is what has begun to happen in the states. Yesterday, Michigan's Attorney General charged 16 people for their role in this seditious conspiracy, on an array of really serious charges:
This action makes it more likely the DOJ and the state law enforcement will pursue similar charges against those involved in this conspiracy in AZ, GA, NM, NV, PA and WI and those who aided it nationally, including Mark Meadows, Rudy Giuliani, Stephen Miller, RNC Chair Romney McDaniel and potentially dozens of others. Just as the insurrectionist trials have lasted for years, and have seen more than 1,000 charged, we could (and should) see hundreds of Republican leaders and activists charged here in DC and in these battleground states over the next few years. Trying to overthrow an election is the "highest" political crime imaginable in a democracy, and everyone of these conspirators deserve to be held to account.
All of this comes at a time when the GOP brand is already in terrible shape. In the latest Civiqs polling, Dems are 38 favorable, 55 unfavorable (-18), Rs are 29-62 (-33!!), and are today at near extinction level numbers with 18-34 year olds, 18-73 (-55!!!!!!!!).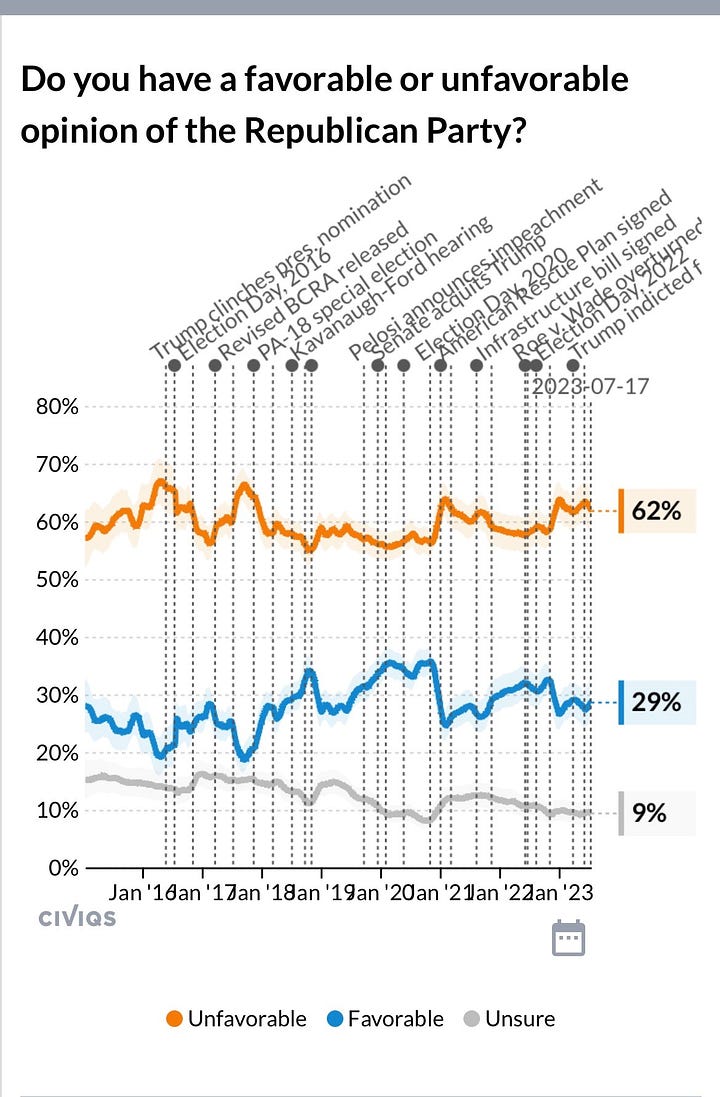 Years of trials of prominent Republicans for "seditious conspiracy" here in DC and across the US is now likely, and will assuredly weaken an already terribly degraded Republican brand. This is another reason why we need to be shooting to get to 55 and make the 2024 election a clear repudiation of everything this once proud party of Lincoln and Reagan has become. Their extremism, betrayal and venality have given us an opportunity to go big next year - perhaps no political party in our history has deserved to get blown out as much as this historically terrible party of Trump.
Yes, the Republican Party's truly awful summer is about to get a whole lot worse.
Keep working hard all - Simon