Discover more from Hopium Chronicles By Simon Rosenberg
Expert commentary from a 30-year veteran of US politics. Together we work on strategies to defeat MAGA, tell our story more effectively, and ensure freedom and democracy prevail. Expect sharp analysis, live events, and all sorts of Hopium!
Over 26,000 subscribers
So shortly after posting my Four Freedoms post on Tuesday, my wife and I took a trip to the Mall. It was a warm, sunny DC summer day, and because of enhanced security due the coming fireworks and evening celebration, the monuments were remarkably empty. We visited the Lincoln Memorial, the Korean War Memorial, MLK, FDR and Jefferson, and the WWII Memorial and the Washington Monument. The Vietnam Memorial was inaccessible due to security, but the rest were open, and glorious.
I've done this walk a few times before but what struck me on this visit was the prominence and power of words in many of the many of the these remarkable memorials. Here is a window into our journey into American history that day. Enjoy….
Lincoln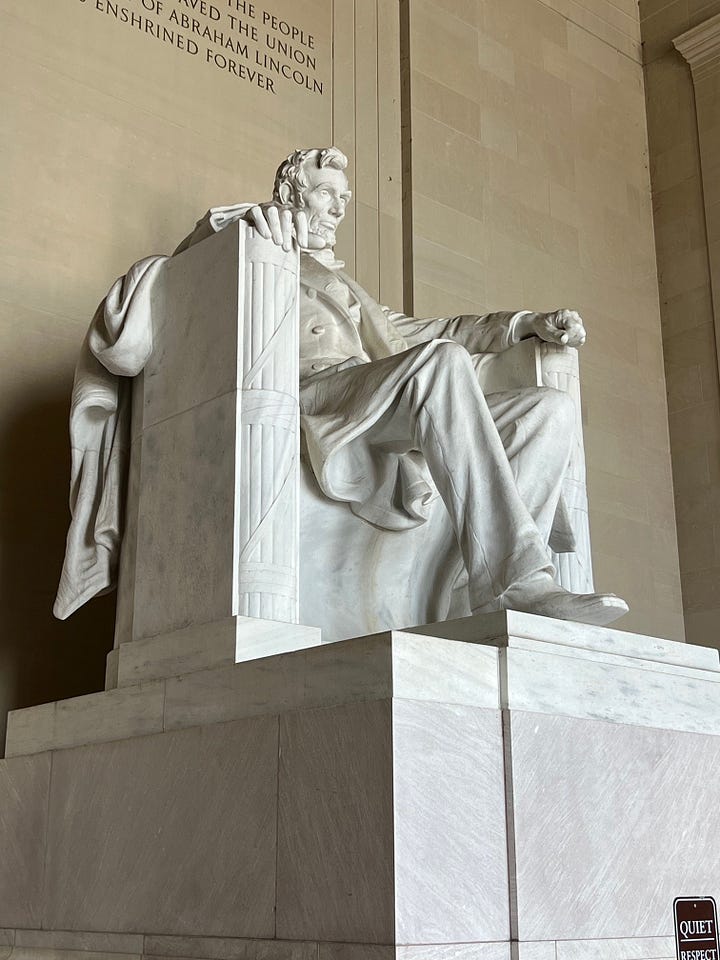 Was very struck by this passage from Lincoln's 2nd Inaugural Address about how looking back no one thought war would come; that it would be as bloody or long as it became; or that slavery itself would be ended. It's remarkable stuff.
From the Lincoln Memorial to The Korean War Memorial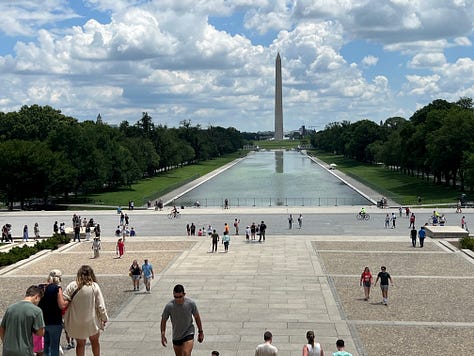 Somehow my main photo of the Korean War memorial didn't make it, but this inscription, "Freedom Is Not Free" loomed large over the site.
MLK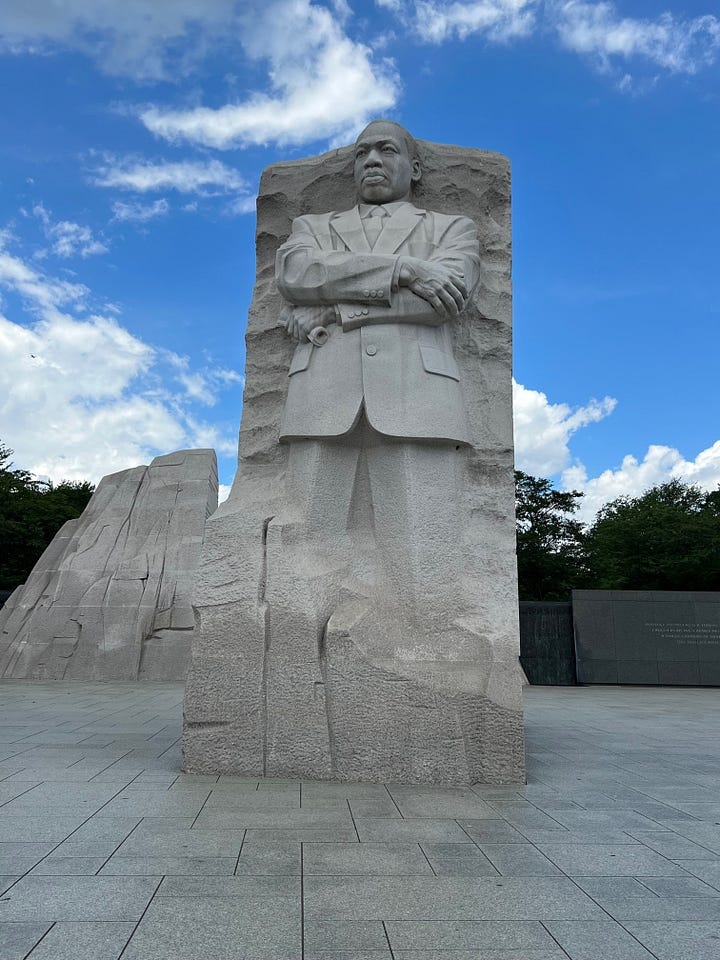 Very hard to narrow down the many inspiring passages from this great man, but these two spoke to me on Tuesday, especially this one: "The ultimate measure of a man is not where he stands in moments of comfort and convenience, but where he stands at times of challenge and controversy." This one made me think of all of you out there taking time from your lives to do the work to ensure freedom and democracy prevails here, during this time of challenge. Keep fighting friends!
FDR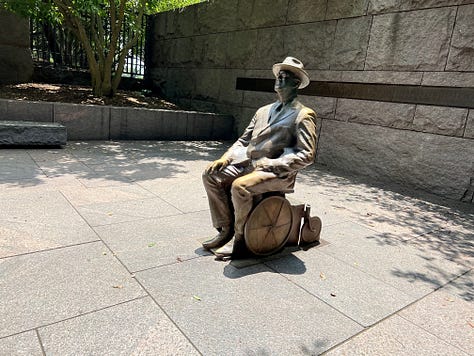 As folks know, I am a bit of a FDR fan boy, but this walk was a little overwhelming for me. It started with this from Eleanor Roosevelt: "Franklin's illness...gave him strength and courage he had not had before. He had to think out the fundamentals of living and learn the greatest of all lessons - infinite patience and never ending persistence."
As I read his words throughout this beautiful memorial, I was really struck by how much FDR shaped our understanding of the modern world. His words remain so powerful, so resonent, so current. He is a towering, towering figure in our history, and the history of the world. You can find the words from the memorial here, and this passage on the right reads in full: "We have faith that future generations will know here, in the middle of the twentieth century, there came a time when men of good will found a way to unite, and produce, and fight to destroy the forces of ignorance, and intolerance, and slavery, and war."
Speaks to our current moment too, I think.
Thomas Jefferson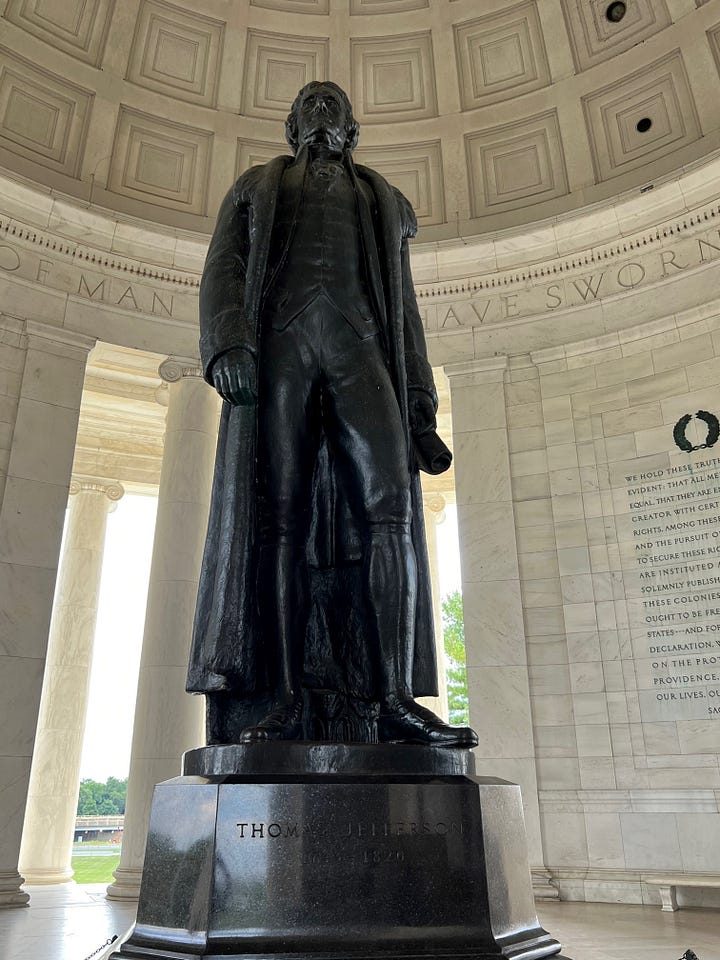 "I am not an advocate for frequent changes in laws and constitutions, but laws and institutions must go hand in hand with the progress of the human mind. As that becomes more developed, more enlightened, as new discoveries are made, new truths discovered and manners and opinions change, with the change of circumstances, institutions must advance also to keep pace with the times. We might as well require a man to wear still the coat which fitted him when a boy as a civilized society to remain ever under the regimen of their barbarous ancestors." Hello Roberts Court!!!!!!!!!!
Bald Eagle and President Washington
As left the Jefferson Memorial, we stumbled upon some kind of re-enactment and got to see a Bald Eagle up close. Was memorable.
WWII and Heading Home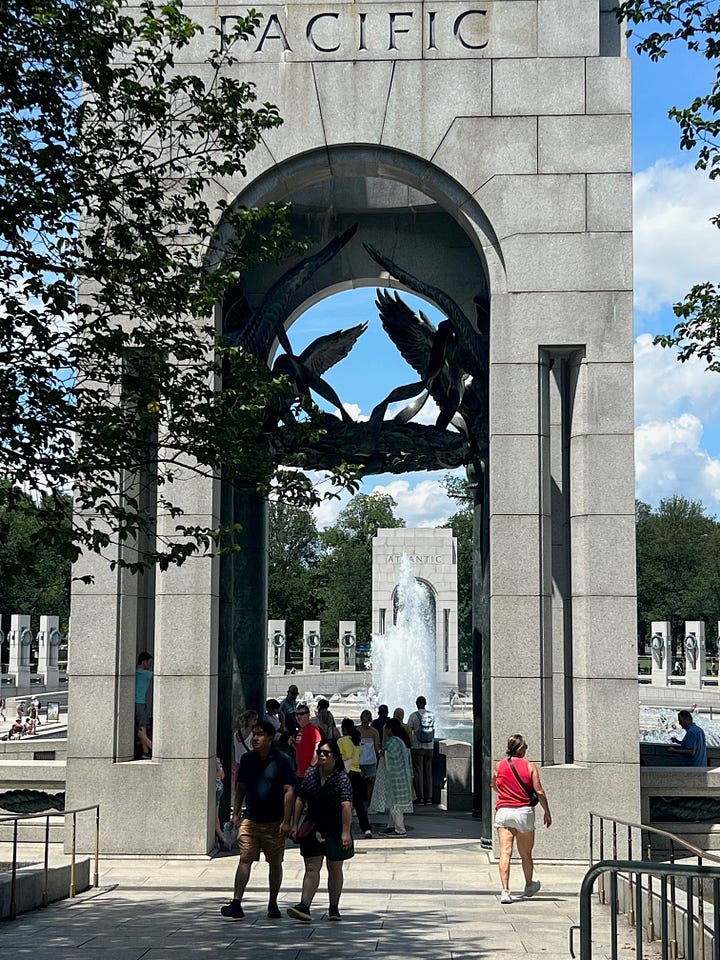 By this point we had run out of gas, and headed home.
Happy Fourth All. We live in a remarkable country, and am proud to be working hard everyday to ensure it is there for our kids and grandkids the way it has been there for all of us - Simon